Save your back!
From beginning to end KAL Make Your Move can assist every step of the way. Ask us about how the flexibility within our services can work for you.
Services
When you contact us, the first thing we do is establish the type of move it is. Is it residential, commercial, or industrial?
Is it local or long distance? Is it a big move like a 4 Bedroom Household move? Or small move like a Bachelor Suite move?
Whatever type of moving service you require, our team can walk you through the process. Below are the different categories of moves that KAL Make Your Move can help you with.
Residential Moving Services
Moving soon and don't know where to start? Trust our residential moving services!
KAL Make Your Move is a team of residential movers in Toronto that has been serving clients in the Greater Toronto Area since 2015. We are licensed and insured, so you can rest assured your belongings are in good hands.
We want to make your move as stress-free as possible. That's why we offer a variety of services, such as packing, unpacking, furniture assembly and more. We will work with you to create a custom moving plan that fits your needs and budget.

Why choose us among other condo moving companies in Toronto?
Are you planning a move and dreading the thought of doing it all yourself? We're here to help! At KAL Make Your Move, one of the top Residential Moving Companies in Toronto, we take pride in offering all that is required to make your move as smooth and hassle-free as possible.
Residential Moving Companies know how stressful moving can be, so let us take care of everything for you. You can relax and focus on settling into your new home. Plus, our rates are very competitive, so you'll get great value for your money.
Reliable and transparent residential moving services
What truly sets us apart amidst all condo movers within Toronto is our passion to deliver moving services that are fully transparent. We are against surprising our clients with hidden charges and mention all costs upfront. All of this is meant to maintain a relationship based on trust with our clients. Moreover, our movers are experienced and efficient, so you can relax and focus on your new home. Our team will handle all the heavy lifting so you don't have to.
Full House Moves
We have loads of experience moving full size homes. We have moved houses from 1500 sq.ft. to 5000 sq.ft. in and around the Toronto area.
The different types of build (Detached, Semi, Bungalow), size, and access can influence the move tremendously! There are different factors between moving a detached home, a semi-detached home as well as a town house. Townhouses are typically narrow with a lot of turns and stairs. Bungalow's usually have larger lot sizes with bigger yards and much more patio furniture.
Here are some other elements that need to be considered when moving a full house:
Parking? Will the truck park on the street or on the driveway? Is it a shared driveway?

How big of a truck(s) is/are needed?

How many movers do I need?

How long will it take?

Is any special moving equipment needed?

Can it be completed within one day or are additional days needed to carry out the move?

Are any special protective moving supplies needed?

Is overnight storage needed?

Do I need a junk removal service before my moving service?

Is overnight storage needed?
Moving between houses is usually more flexible in terms of timing, as there aren't any elevator time restrictions. However, if you have sold your house and there is a particular closing date and time, you may want to take the necessary steps to meet that deadline.
The major stresses that may arise with house moves are whether access to the unloading address is granted in time. Many house moves happen the same day as closing and sometimes getting the key or confirmation from the lawyer that the property ownership has transferred can add stress.
You can rest assure that we have gone through this before! We offer overnight storage, and are flexible in the amount of movers to provide in order to make the timing just right.
Condo to Condo Moves
We have plenty of experience moving condos in Toronto! Whether it is a bachelor suite, one bedroom + den, or even a two bedroom condo, we walk you through the process of moving to make sure it goes as smoothly as possible.
Some of the details that need to be figured out prior to high rise condo/apartment moves are:
How long are you allowed to book the elevator for?

What time to reserve the elevator at both the pickup location as well as the drop off location?

How many movers should I get?

What sized truck do I need?

Is there any restrictions for the size of the truck because of the loading bay?

Is a deposit needed to reserve the elevator?

Is there an inspection that happens prior to the move or after the move?

Is overnight storage needed?

What happens if the elevator stops working?

Some older high rise apartments/condos only have one elevator, what time is best to start the move?
Rely on our experience to guide you. High rise apartment buildings are very similar to condo moves with the exception that some apartment buildings have smaller elevators as they are usually older buildings, or they only have one elevator which is not available to be put on service and would need to be shared with other residents going up and down during the move. In any case KAL Make Your Move can advise on the best course of action for either scenario.
One of the situations that can make moving from condo to condo much more stressful is if you are running out of time with the elevator, or even worse , the movers are waiting around for the elevator to be available. There are also some condo rules as well, such as not allowing for moves to take place prior to 9am, or on Sundays. Condo regulations such as not being allowed to take off the front door can would make it more challenging to take out bulky furniture. Some unexpected problems that hopefully do not arise are; elevator is out of service, fire alarm drill or movers from a different moving company have not finished their job, and our team is waiting for elevator to become available. KAL Make Your has the experience to advise you to mitigate these potential added stresses, we will do everything possible to make sure that your move can be as stress free as possible.
Household Apartment Moves
For House Apartment moves, some of the important criteria are:
Is the apartment in the basement, main floor, or second floor?

Parking? Will the truck park on the street or on the driveway? Is it a shared driveway? Or street parking? On main streets, street parking may be hard to get or prohibited during certain times, usually rush hour.

What kind of house is it? Is it a walk-out basement? Is there exterior stairs to the second floor apartment?
Having the expertise of a professional mover can provide you advice that will make these apartment moves a breeze. For example, advising you to make sure the neighbor keeps the driveway clear, or saving the street parking for the moving team upon their arrival. Taking the proper steps can be the difference between a sad move and a happy move.
The team at KAL Make Your Move would be happy to go over all the information you will need prior to the move.
Long Distance Moves
Anything over 50km can be considered a long distance move. There are different categories for long distance moves – either between cities, between provinces, or between countries.
Some of the major details that need to be established with long distance moves are:
Time restraints for delivery of the belongings for the pickup address or offload address.

Regulations that would affect the move. For example, the Ministry of Transportation has different laws that prohibit drivers to operate a commercial vehicle past a certain number of hours worked.

Is a shuttle service required?

Multiple transfer stations? (i.e. Rail and Air)

Is storage required?

How many movers are needed?

Documents for each country's customs agencies.

How will the move be charged? Long distance moves are usually charged by weight and distance, which is different than local moves.
Take advantage of our trustworthy industry partnerships to make sure your long distance move goes off without a hitch! Let us guide you through this complicated process. Transporting your life does not have to be so stressful.
Packing Services
Best-in-class packing and unpacking services
Packing up your entire home can be a daunting task, but our professional residential movers and our packing team in Toronto can make the job much easier for you. We have the experience and know how to pack those fragile and sentimental belongings. We will work with you to create a custom packing plan that fits your needs and budget.
We also offer unpacking services to help you get settled into your new home quickly and easily. Our team will unpack all of your boxes and place your belongings within your new cupboard space. Starting off organized in your new home is a great way to start your next chapter. We even clean up and take away all the recyclable materials afterwards so you can start enjoying right away.
We are always here to answer any questions you may have and help you with whatever you need. Feel free to get in touch with us today!
Commercial / Industrial Moves:
Whether you are moving store fronts or moving your entire warehouse, KAL Make Your Move can assist you in making it pain free. 
Some of the factors that affect these types of moves include:
Is there a loading dock?

Are there any time constraints or restrictions?

How many square feet is the complex?

Are there loading racks and will a forklift be needed?

Are there any parking restrictions?

Are there any dangerous goods or hazardous materials?
Junk Removal Services
KAL Make Your Move specializes in residential junk removal services. It's better to do a spring cleaning prior to your move so you are not paying to move belongings that you intend to throw away/sell/giveaway. It will also make the organizing of your new living space much more manageable. 
For renovation junk removals, feel free to use our industry partners, we look forward to pointing you in the right direction.
Delivery Services
KAL Make Your Move offers professional delivery services for a wide variety of products. We have extensive experience delivering High-end Furniture, Residential Appliances, Hardwood Flooring, Tile, Kitchen Cabinets, to name a few.
We offer flexibility with different sized trucks, with both one-mover or multi-mover teams. We can also include assembling and product placement anywhere within a home or establishment.
We have the moving equipment to keep both the product and client's home damage free.
Looking for a reliable delivery service? Call KAL Make Your Move to open an account!
Storage Services
The typical options for storage services are the following: 
Overnight Storage

Onsite Storage

Outdoor Storage

Indoor Climate Controlled
Depending on your situation, the type of storage service that would make the most sense for you would differ.  
KAL Make Your Move can advise on which is best for you and your situation. 
Contact us – we will walk you through it.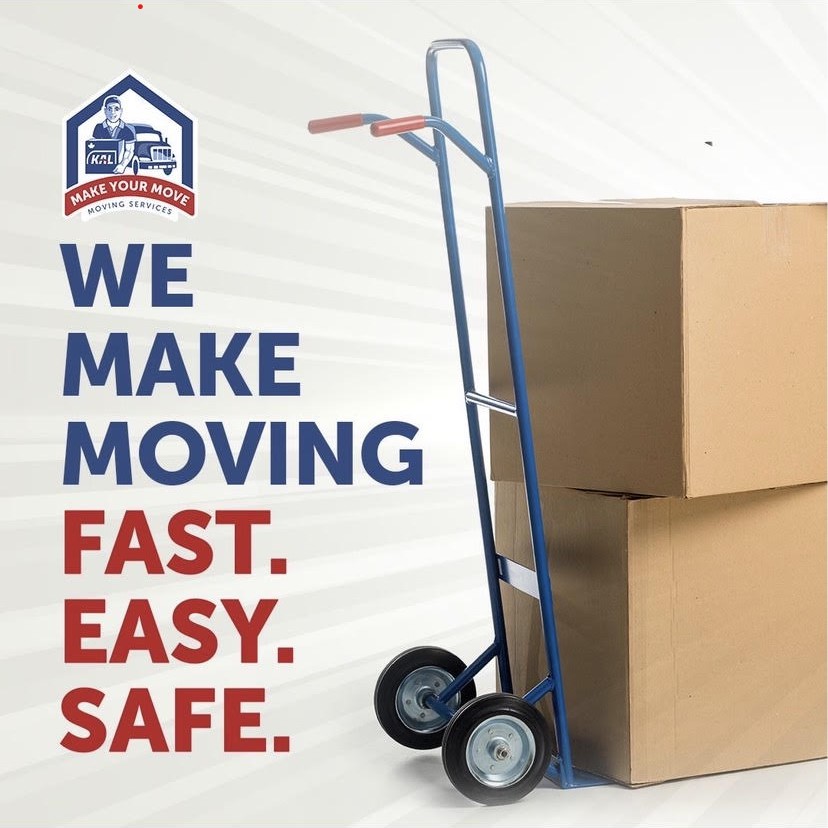 Looking for Toronto movers?
You can rest assure that your search ends here. We offer the best value in the city!